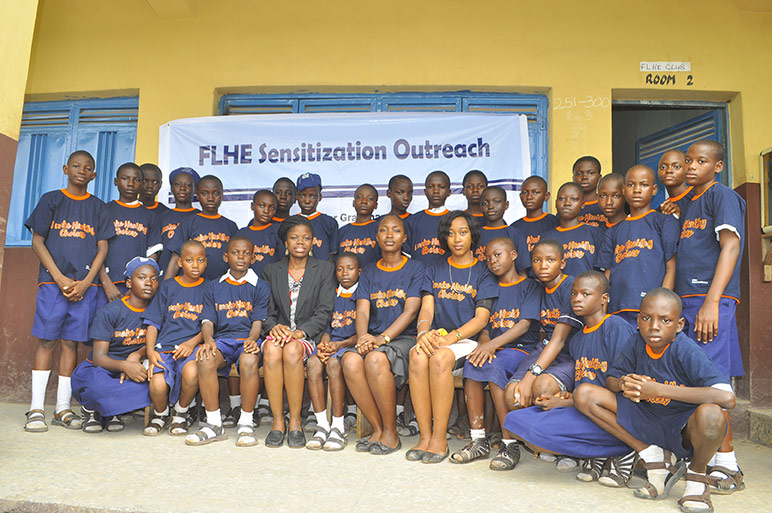 Building on the training of 120 Peer Educators earlier this year by Action Health Incorporated (AHI), a one day Family Life and HIV Education (FLHE) sensitization outreach was held for students in the 12 project schools drawn from the six educational districts from June 15 to June 19, 2015.
The outreach, with the goal to educate students on adolescent health issues including sexually transmitted infections and adolescent development, is part of ongoing efforts to strengthen the implementation of FLHE in Junior Secondary schools in Lagos state.
Topics covered during the outreach include: pubertal changes, dealing with adolescent/pubertal changes and where to seek help when needed. The programme was further enlivened with a quiz competition for students on FLHE topics covered during the school year and the winners were awarded prizes. Likewise, outstanding Peer Educators who reached out to the most number of peers with information on adolescent health in all the twelve schools were awarded gifts as well as the coordinating teachers for their efforts.
Participating schools for the outreach were: Iju Junior Grammar School, Iju, Ojota Junior Secondary School, Ojota, St. Luke's Junior Grammar School, Bariga, Eko Akete Junior Secondary School, Lagos Island, Epe Junior Grammar School, Epe, Aje Comprehensive Junior High School, Sabo, Wesley Girls' Junior Secondary School, Yaba, Jibowu Junior High School, Jibowu, Lagos State Model Junior College, Ojo, Bolade Junior Grammar School, Oshodi, Army Cantonment Junior Secondary School, Ikeja, and Ransome Kuti Memorial Junior Grammar School, Mushin.
The outreach was supported by the United Nations Population Fund (UNFPA) and over 8,000 students were reached.
.
Event Photos