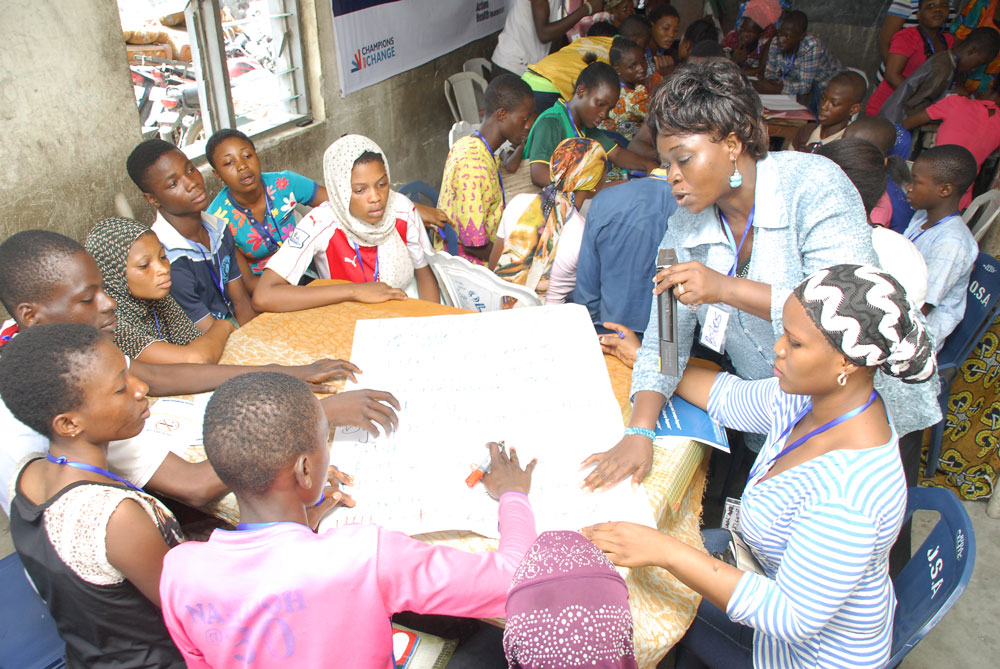 Many young people today desire a friendly healthcare facility to address their health needs and provide answers to their unlimiting questions. To address these needs, the healthcare provider must be adequately trained and knowledgeable in providing services that are youth friendly. The Adolescent Youth-Friendly Healthcare Service (AYFHS) is a service that meets the needs of young people non-judgmentally and promotes cordial relationships between the clients and service providers.
To enhance the delivery of AYFHS, Action Health Incorporated with support from Champions for Change trained 25 healthcare providers and members of the Ward Health Committee in Apapa Iganmu Lagos. The 5-day training which held between March 7-11 2016 was aimed at building their capacity to provide youth friendly services and improving their knowledge on adolescent sexual and reproductive health. The participants were taken through  topics such as; overview of adolescent sexual and reproductive health in Nigeria, Anatomy and Physiology of the male and female reproductive organs, Principles of Adolescent Youth Friendly Health Services , Adolescent Youth Friendly Health Facility Characteristics, Communicating with Young people about Sexuality Issues amongst others.
The training was of high effect on the participants as an analysis of the participants pre and post test results showed a 57% increase in participant's knowledge about adolescent reproductive health issues, Adolescent and Youth Friendly Health Services as well as characteristics of a youth friendly facility and the characteristics of the provider.  Not only did participants show increased knowledge, there was also a change in their attitudes towards sexual violence among young people.
According to the Chairman of the Ward Health Committee, Mr. Okeola Azeez, lack of proper education is fuelling unwanted pregnancy. "We need to teach them about sex and the implication of unprotected sexual intercourse because if you don't teach them, eventually they will practice it". He said that the training was of high impact and it will propel them to work towards delivering friendly health services to young people.
In a related development, a 3-day training on Sexual and Reproductive Health and Youth Friendly Health Service was held between March 9-11, 2016 for 35 adolescents drawn from 4 Community Development Areas (CDAs) (Oke Oja North, Oke Oja South, Oke Oja  West and Gaskiya West) around Olojowon Flagship Primary Healthcare Center in Badia to increase demand for RMNCH services among young people particularly girls ages 10 – 24 in the community.
The peer educators were educated on Adolescent Sexual and Reproductive Health, Sexually Transmitted Infections including HIV/AIDS, Values, Values Clarification, Gender & Gender Roles, Sexual Violence, Communication, Assertiveness and Negotiation Skills, and Peer Education- roles & challenges. After going through this training, they are saddled with the responsibilities of reaching their peers (350 young people monthly) with information on SRH and also ensure that the young people in their community visit Olojowon PHC to access services.
Feedbacks from the peer educators showed that there was an increase in knowledge level on ASRH, Youth Friendly Health Services, Values, Gender Issues, Sexual Transmitted Infections and Sexual Abuse. Giving his own feedback, Giwa Kazeem said that "I have realized that no lady deserves to be raped irrespective of what she is wearing and young people should be going to the PHC". Also, Adebayo Eniola was of the opinion that young people should not be keeping information to themselves. "Let them seek medical opinions as I have gained more knowledge about STIs and know how to protect myself", she said.
These trainings are part of other activities advocating for the integration of youth friendly services at the Olojowon Flagship PHC Badia.
Event Photos