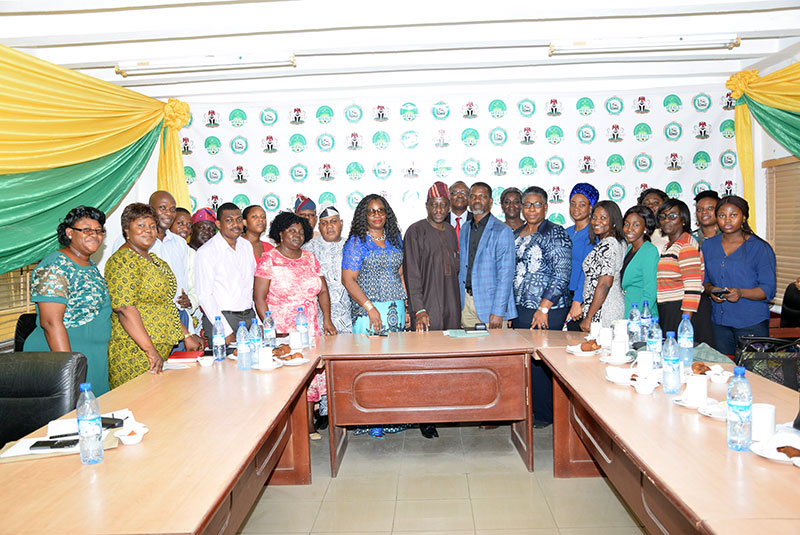 On May 3, 2018, Action Health Incorporated (AHI), in collaboration with the Ogun State Home Grown School Feeding Programme (HGSFP) and with the support of the MacArthur Foundation, held a high-level meeting to disseminate the results of the baseline survey conducted in four Local Government Areas (LGAs) in Ogun State to be monitored by AHI and officially launch the monitoring of the HGSFP in the four LGAs.
This meeting is one component of a larger initiative by AHI and the Ogun State HGSFP team to strengthen the HGSFP in Ogun State by promoting accountability through community stakeholders' participation in monitoring the effective implementation of the programme across public primary schools in 4 LGAs.
After welcoming all the stakeholders to the meeting, AHI's Executive Director, Mrs. Adenike Esiet, expressed her appreciation for the relentless effort of the Ogun State HGSFP team and other partner NGOs present. After Mrs. Esiet's welcome address, Mrs. Sumbo Oladipupo from Centre for Women's Health and Information (CEWHIN) and Mrs. Morenike Omaiboje from Women Consortium of Nigeria (WOCON) appreciated the State HGSFP Team for their efforts in the implementation of the programme and emphasized the importance of participation of all stakeholders to ensure the success of the HGSFP in Ogun State.
Barrister Adeleke Adewolu, the Honourable Commissioner, Ministry of Special Duties and Inter-Governmental Affairs, followed by explaining the objectives of the programme and the role that the Ogun State Government has played in the implementation of the programme since its inception in January 2017. He informed the stakeholders that 2,948 vendors had been recruited to feed over 270,000 primary school pupils in 1,510 public primary schools across the 20 LGAs of Ogun State. He further stated that the programme has received a lot of positive feedback due to the increase in enrolment and attendance of school children and the empowerment of women as cooks and food vendors.
The Ogun State HGSFP Programme Manager, Mrs. Tinuola Shopeju, further described the status of the Ogun State HGSFP. She explained the constitution of the State Steering Committee, which consists of members from the State Ministries of Agriculture, Education, Finance, Health and Information; the process of recruitment of food vendors from within the community; and some of the challenges faced in the implementation of the HGSFP.
Representing the team from AHI, Programme Officer, Ms. Stella Soneye gave an overview of AHI's project to strengthen the Ogun State HGSFP, describing the project objectives, key project activities, strategies and the expected outcomes from the project. This was followed by the presentation of findings from the baseline survey conducted in 60 schools across the four LGAs of programme implementation presented by Mrs. Zaynab Adeniyi, another AHI Programme Officer.
The meeting concluded with a general discussion session where stakeholders asked questions and received appropriate answers from representatives of the Ogun State HGSFP and AHI. News coverage of the meeting can be found at https://youtu.be/cveCxWEJr6k.
Ogun State's HGSFP is part of the National Home Grown School Programme (NHGSFP) that aims to improve the health and educational outcomes of public primary school pupils. Ogun State started its HGSFP in January 2017 in public primary schools across the 20 Local Government Areas (LGAs) of the state. To learn more about this programme, please visit https://www.actionhealthinc.org/school-feeding-project/