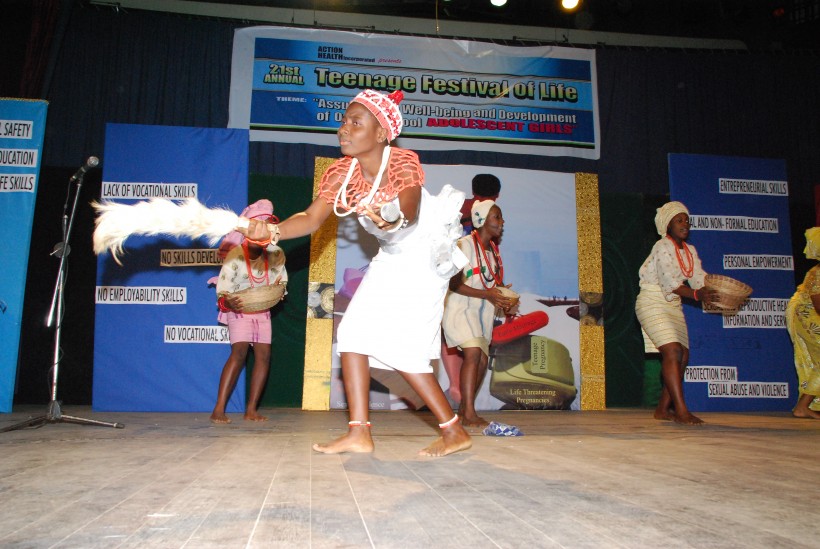 On November 8, 2014, the Main Auditorium of the University of Lagos was filled to capacity for the 21st edition of the Annual Teenage Festival of Life (TFL). Over 2,000 young people, as well as representatives from the State Ministry of Education, Non-Governmental Organisations, Community Development Associations (CDA), and the Media attended the event.
The theme for this year's programme was "Assuring the Well-being and Development of Out-of-School Adolescent Girls" and it featured drama, essay, song, and poetry performances from various public secondary schools across Lagos State. The resonating messages of these performances were the needs, concerns, and realities of out-of-school adolescent girls as well as their call to action for the government and society at large to address these challenges.
Special guests who made goodwill remarks included the 'One-Day-Governor' of Lagos State, Mr. Edun Olabanji, Board Chairman State Universal Education Board, Mrs. Gbolahan Daodu and Director, Lagos State Office of the Public Defender, Mrs. Omotola Rotimi.
The event was further enlivened by the presentation of two guest artistes from Project Fame 2014 – Ogechukwu Okafor and Kofoworola Akintoye and a Spoken Word performance by Atilola Morunfolu.
The event's climax was the presentation of trophies and plaques to winners in the various categories of the TFL competition – just watching the excitement and jubilation of the students and their teachers as the ran up the stage to collect their hard won prizes – one couldn't escape being affected by the air of joyful celebration that filled the auditorium.
Event Photos