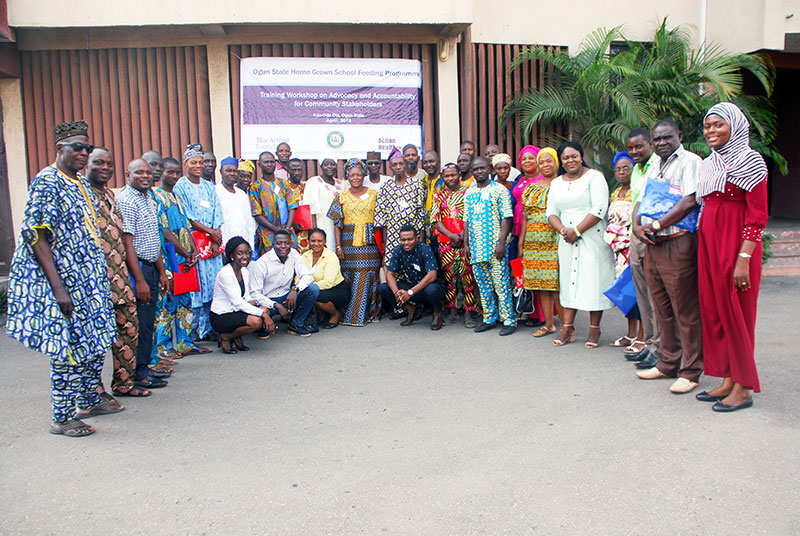 A 2-day advocacy and accountability workshop was held in Ado-Odo/Ota and Sagamu LGAs on 16th and 17th April 2018 to equip participants with the skills to advocate and demand for accountability on the Home Grown School Feeding Programme (HGSFP) and also to inaugurate Community Watch Groups across 60 project schools in 4 LGAs in Ogun State.
An overview of the HGSFP was provided by Mr. Eniola Olowu to enlighten participants on the operations of the HGSFP in Nigeria and in Ogun State. He described the history of school feeding in Nigeria, the HGSFP objectives and benefits, the implementation process and funds flow, and subsequently gave an update on the Ogun State HGSFP. The concepts of accountability and transparency were explained in detail by Ms. Stella Soneye and subsequently advocacy and steps involved in advocacy were explained. Participants were taught different communication strategies for effective advocacy and ways of developing and delivering advocacy messages to ensure accountability.
In a group work session, participants deliberated on ways to ensure active participation and accountability on the HGSFP within their community and it was interesting to note that they all agreed that they could monitor the food delivery process and ensure adequate feedback generation.
At the end of the workshop, a total of 56 community stakeholders, 14 Community Based Organization (CBO) monitors, 6 LGA officials and 3 state officials were trained on Advocacy and Accountability to support and demand for improvement in the HGSFP.  Likewise, Four (4) Community Watch Groups were inaugurated across the 4 LGAs of project implementation by the State officials present at the workshop.