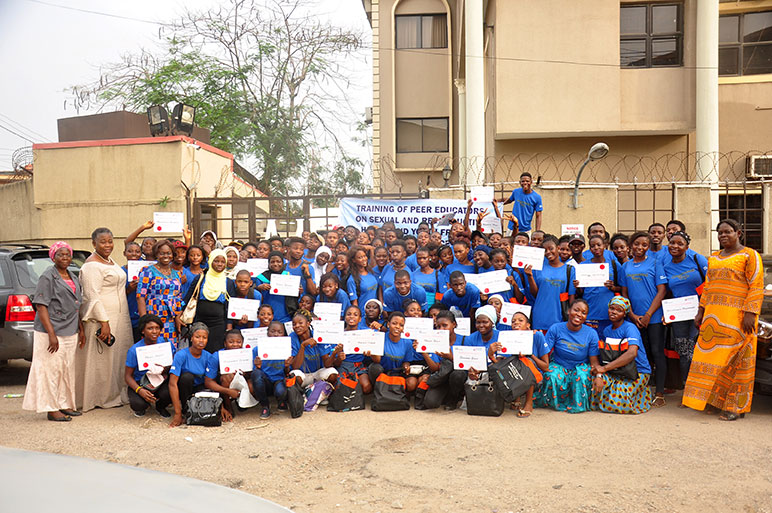 Action Health Incorporated with support from Champions for Change (C4C) organized a Five-day Capacity Building Training for One Hundred and Twenty (120) young people from Ilaje Bariga and Iwaya Yaba as Peer Educators on Sexual and Reproductive Health and Adolescent Youth Friendly Health Services.
Young people experience high rates of HIV, sexually transmitted infections (STIs), unplanned pregnancies, and maternal morbidity and mortality, thus there is a need to provide them with education and services to allow them make informed, healthy choices about their sexual and reproductive lives. Therefore, the training was aimed at increasing the peer educators' knowledge on Sexual and Reproductive Health Issues as well as empower them to drive demand for Reproductive, Maternal, Newborn, Child and Adolescent Health (RMNCAH) services among young people particularly girls ages 10 – 24 in their community.
Topics covered during the training include overview of Adolescent Sexual and Reproductive Health, Laws And Policies on Young Peoples' SRH In Nigeria, Sexually Transmitted Infections including HIV/AIDS, Values, Values Clarification, Gender & Gender Roles, Sexual Violence, Communication, Assertiveness and Negotiation Skills, Contraception for Young people, Dealing with Teenage Pregnancy & Unsafe Abortion, and Peer Education- roles & challenges.
Furthermore, the peer educators were saddled with the responsibilities of reaching their peers (1800 young people monthly) with information on SRH and also ensure that the young people in their community visit Ashogbon and Iwaya PHC to access Youth Friendly Health Services.
In a related development, AHI also provided technical support to the Lagos State Primary Healthcare Board (LSPHCB) to build the capacity of 25 Healthcare Providers and 35 Ward Health Committe from PHCs in Yaba and Bariga LCDA on Adolescent Youth-Friendly Healthcare Service (AYFHS) provision. These activities are part of the programme advocating for the integration of youth friendly healthcare services at the Iwaya and Ashogbon Primary Healthcare Centers in Lagos State.
Event Photos