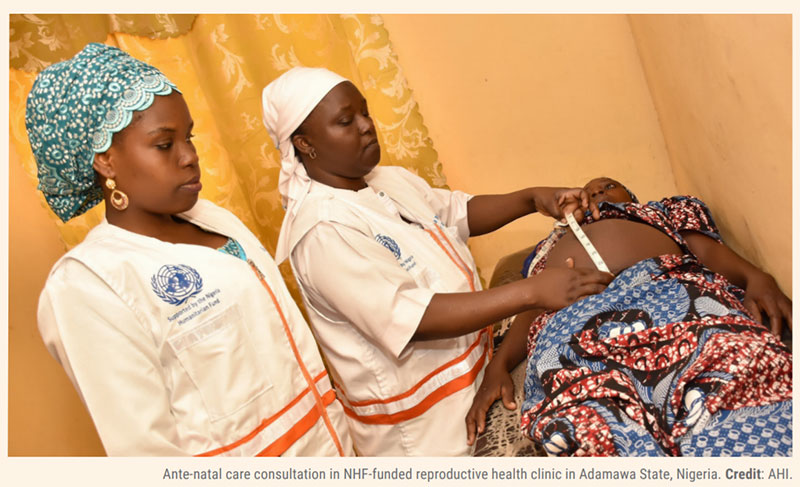 Action Health Incorporated's humanitarian efforts in Northeastern Nigeria have been recognized by the United Nations Office for the Coordination of Humanitarian Affairs (OCHA) in Nigeria in the 2017 Nigerian Humanitarian Fund (NHF) Annual Report.
In 2017, through an NHF-funded project, AHI contributed to the Health sector of the Nigerian Humanitarian Response Plan (HRP), particularly the HRP's objectives of providing life-saving and life-sustaining humanitarian health assistance to affected IDP and host community populations and increasing access to health services.
One specific intervention highlighted in the NHF Annual Report as a success story was AHI's project that focused on providing reproductive, maternal, newborn and child health (RMNCH) services to the most vulnerable people in Adamawa State's hard-to-reach areas. Over 12,200 women and children were beneficiaries of the reproductive health services provided by AHI. Another set of beneficiaries of AHI's project were survivors of gender-based violence who were served by counsellors that provided psycho-social support to help them overcome the fear of stigmatisation which often prevents them from reporting their abusers.
More information about AHI's contributions and the larger Nigerian humanitarian response by OCHA Nigeria and its partner organizations can be found in the 2017 NHF Annual Report at https://reliefweb.int/report/nigeria/nigeria-humanitarian-fund-annual-report-2017.