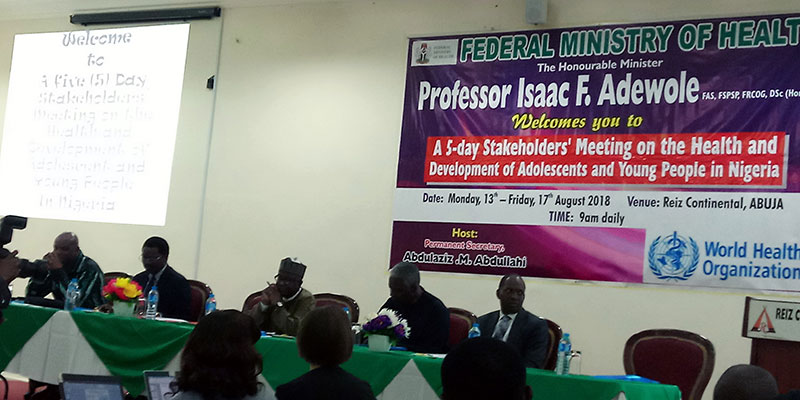 As part of efforts to improve the health and development of adolescents and young people, the Federal Ministry of Health, with support from the World Health Organisation (WHO), convened a 5-day stakeholders' meeting in Abuja to review the National Policy on the Health and Development of Adolescents and Young People in Nigeria that was produced in 2007.
The meeting which was held from August 13-17, 2018 had in attendance major critical players and stakeholders from Civil Society Organisations, Non-Governmental Organisations, United Nations Agencies, Youth-Led Organisations, and Federal Ministry Agencies, as well as State Ministry Officials.
During the keynote address at the opening ceremony, the Honourable Minister of Health, Dr. Isaac Adewole, who was represented by the Permanent Secretary, Federal Ministry of Health, Mr. Abdulaziz M. Abduillahi, said that the government places a high priority on the health and development of young people since they are the largest segment of the country's population.
A situation analysis report on the health and development of adolescents and young people in Nigeria showed that poverty, disease burden, socio-cultural and family environments are key determinants of adolescent health in Nigeria. In addition, the absence of national programmes on adolescent and young people's health and development was a huge challenge to having a coordinated response to Adolescent Health and Youth issues in Nigeria. Likewise, the report indicated that there is also poor institutional funding for adolescent health and development both at national and sub-national levels.
In addition, the report highlighted that the major weakness and gaps in the implementation of the old policy include: weak leadership and coordination at the state and community levels; the lack of domestication of Child Rights Acts in 12 states; lack of cohesion among the line ministries involved in Adolescent Health and Development (AHD) programming; AHD programs' unsustainable dependence on donor funding; and the small number of programmes and services designed to specifically target vulnerable adolescents, especially the physically challenged and very young adolescents.
In his remarks at the closing ceremony of the programme, Prof. Adesegun Fatusi, Professor of Public Health & Community Medicine at Obafemi Awolowo University, stated that the meeting was a turning point and the first of its kind to address and solve the problems affecting the health and development of adolescents and young people.
More so, the World Health Organisation (WHO) Nigeria Country Director. Dr. Wondimagegnehu Alemu in his remarks also reiterated that it was the right time for the strategic plan and the policy to be reviewed. He commended the leadership at the Federal level and urged them to take ownership and work with all stakeholders to implement the revised policy as the main issue is beyond morbidity and mortality but around behavioural change, as such the policy will not bring any change until it is been implemented.
Event Photos