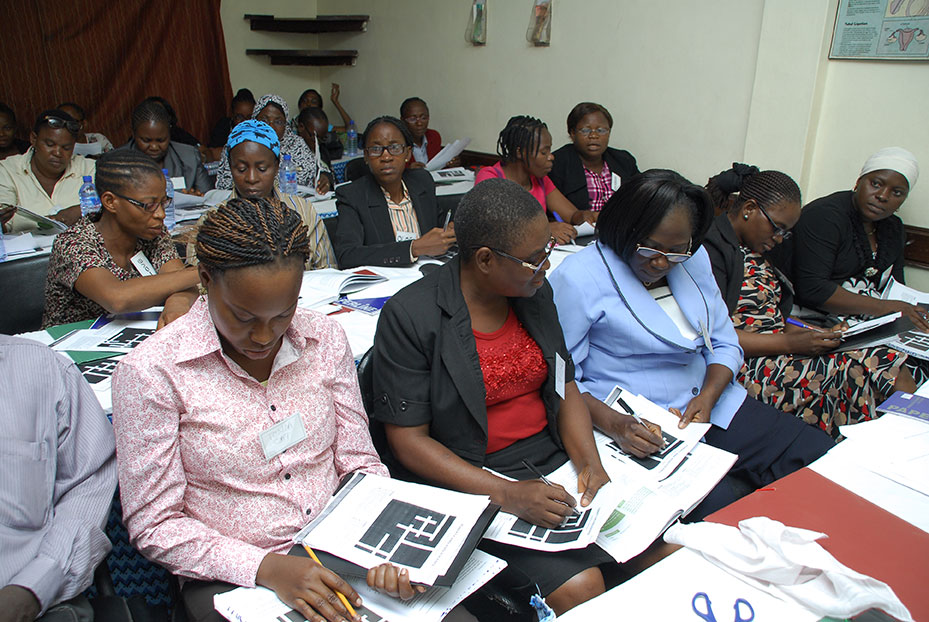 On Tuesday, February 24, 2015, Action Health Incorporated (AHI) in collaboration with the Lagos State Ministry of Education (LSMOE) conducted a one day refresher workshop for Family Life and HIV Education (FLHE) teachers and LSMOE personnel. The purpose of the workshop was to share updates and provide feedback on progress made in the Strengthening the Family Life and HIV Education (FLHE) Programme going on in Public Junior Secondary Schools in Lagos State.
Present at the workshop were 47 FLHE teachers from the 10 projects schools (Wesley Girls Junior Secondary School, Yaba, St. Luke's Junior Grammar School, Bariga, Epe Junior Grammar School, Epe, Bolade Junior Grammar School, Oshodi, Iju Junior Grammar School, Iju, Eko Akete Junior Secondary School, Lagos Island, Aje Comprehensive Junior High School, Sabo, Ojota Junior Secondary School, Ojota, Army Cantonment Junior Secondary School, Ikeja and Lagos State Junior Model College, Ojo), Mrs. Kofo Alli, Director, Special Programmes; LSMOE Private Education Special Programmes (PESP) Department, Mrs. Nkem an Officer of the LSMOE Quality Assurance (QA) Department and two FLHE Master Trainers – Mr. Hakeem Lamidi and Mrs. Abosede Deji-Oderinde.
During the workshop, officers from AHI and QA department shared their findings and lessons from classroom monitoring exercises and remedial actions required for enhancement of FLHE teaching. Likewise, the teachers had the opportunity to share their FLHE success stories and challenges. Furthermore, the teachers were provided with practical advice on how to navigate challenges that come up in teaching FLHE topics, including how to contact a Master Trainer for assistance. In addition, the Master Trainers reiterated the importance of clarity of messages when teaching the students especially on topics like Gender Rights and Equality.
Mrs. Alli appreciated the FLHE teachers on behalf of the Lagos State Honorable Commissioner for Education and Permanent Secretary and commended them for the work done thus far in implementing FLHE in schools. She also extended her appreciation to AHI for this initiative to empower young people with knowledge and skills to live healthy lives. Likewise, the teachers expressed their gratitude to AHI for the workshop and hospitality.
Event Photos