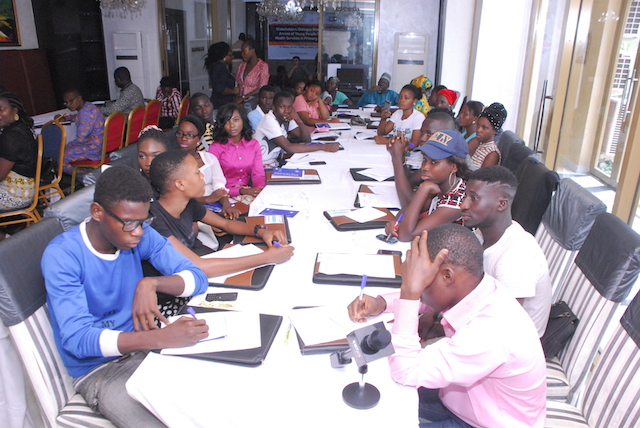 Action Health Incorporated (AHI) and other stakeholders held a dialogue meeting on June 14, 2017 to discuss the need to expand the access of young people to youth friendly healthcare services in Primary Healthcare Centres (Ashogbon and Iwaya PHC) with a view to mobilise support and programme implementation.
According to results of a study conducted in Ilaje Bariga and Iwaya Yaba, around 36% of young people surveyed have never used their local PHC and the most common reason was that participants felt uncomfortable going there. Furthermore, the study revealed low knowledge on Sexual and reproductive health information as less than 5% of young people surveyed could answer questions correctly on HIV transmission and prevention.
Speaking to the stakeholders comprising representatives from Lagos State Ministries of Health, Youth & Social Development, Community members, Civil Society and young people; AHI Programme Officer, Ms. Funso Bukoye also said that the majority of the sexually active young people in the communities are at risk of contracting STIs including HIV/AIDS as awareness of contraceptives did not translate into usage among sexually active participants, with less than 25 percent of participants using contraceptives consistently.
Thus, she called for the integration of Adolescent Youth Friendly Healthcare Services, AYFHS in all Primary Healthcare Centers across Lagos State as well as improve young people's access to trained healthcare professionals who can provide quality sexual reproductive health information and services.  She further stressed that these services should be equitable, accessible, acceptable, appropriate and effective.
Recommendations from other stakeholders include that parents should ensure that they have a cordial relationship with their children especially the adolescents. Also, workers at the Primary Healthcare Centres should ensure that they are as friendly as possible and do not discourage the young person by giving unfriendly attitude while peer educators were advised to encourage referrals.
Event Photos