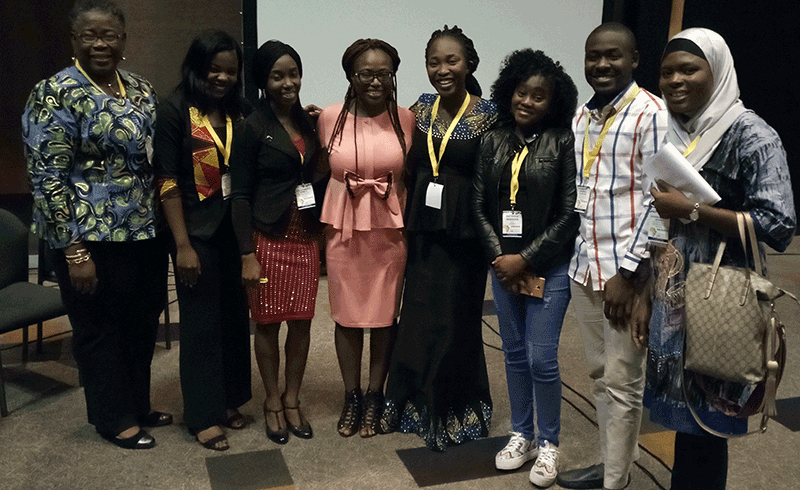 From February 12 to February 17, 2018 leadership and programme staff of Action Health Incorporated participated in the 8th Africa Conference on Sexual Health and Rights (ACSHR), held in Johannesburg, South Africa. This edition's theme was "Advancing Sexual and Reproductive Health for Women and Girls" with the hashtag #WomanUp2018.
The conference, which was hosted by Youth Lab, a South African nonprofit focused on youth engagement in shaping policy and addressing socioeconomic issues, was supported by several organizations including AHI, the South African National AIDS Council (SANAC), the State Information Technology Agency SOC Ltd (SITA), and the United Nations Population Fund (UNFPA),among others.
From February 12-13, AHI's team members were engaged in a capacity building retreat that addressed topics such as leadership, programme monitoring and evaluation, and report writing. The external facilitators of the retreat included Ms. Thokozule Budaza, Senior Manager at Soul City Institute for Social Justice; Dr. Babatunde Ahonsi, sociologisyt and demographer and UNFPA Representative, China; Dr. Kim Dickson, physician and public health specialist and UNFPA Representative, Sierra Leone; and Dr. Diene Keita, lawyer and economoist and UNFPA Representative, Nigeria.
The programme staff also had the opportunity to engage with the ACSHR Youth Pre-Conference that was held concurrently at the same venue as the staff retreat. The Pre-Conference focused on youth-related issues such as the demographic dividend (DD), adolescent and youth SRHR, and the use of social media and technology to enhance youth sexual and reproductive health and rights (SRHR) and DD advocacy.
The main conference commenced on February 14 with introductions by Tessa Dooms, Managing Director, Youth Lab, and Dr. Uwem Esiet, the convener of the conference and AHI Director. A key highlight of the conference was a special intergenerational conversation session that featured Her Excellency Graça Machel, the former First Lady of Mozambique and South Africa; Dr. Natalia Kanem, the Executive Director of the United Nations Population Fund (UNFPA); and a group of young leaders as young as 16 years of age.
Panel sessions at the conference were organized according to the themes of access, equality and impact and generated lively discussion among the attendees. In particular, the issues of gender-based violence (GBV), the need for the amplification of youth voices, and the need to consider the needs of people with disabilities were subjects of empassioned discourse.
In addition to the other panel sessions at the conference, AHI programme staff presented the results of their work at a panel session titled "Advancing the Sexual Health and Empowerment of Girls: Lessons from Nigeria" and past participants and facilitators of the Sexuality Leadership Development Fellowship programme discussed their experiences at a panel session titled "Advancing Sexuality Leadership Capacity Building in Africa." Both panel sessions were well-attended and panelists responded to questions and comments from the audience.
Overall, the conference was a rewarding experience for all involved. The Pre-Conference was attended by a mainly youth audience of 200 and the main conference was attended by about 600 delegates.
Event Photos