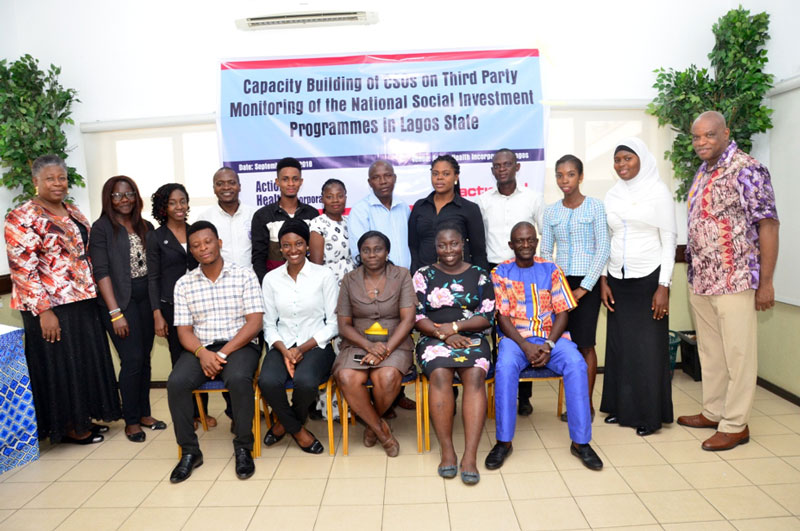 Between September 3 and September 4, 2018, Action Health Incorporated (AHI) conducted a two-day training programme for third party monitors from selected civil society organisations (CSOs) to build their capacity to monitor the National Social Investment Programmes (N-SIPs) in Lagos State. The three programmes being monitored include N-Power, the National Home Grown School Feeding Programme (HGSFP), and the Government Enterprise and Empowerment Programme (GEEP).
In her opening remarks, Mrs. Adenike Esiet, the Executive Director of AHI, welcomed the programme participants and explained that the overall aim of the project was to enable beneficiaries provide feedback on the N-SIPs in Lagos State and help improve the delivery of services.
She encouraged the participants to base their monitoring activities on integrity, which was why AHI chose reputable organizations with shared goals and values to participate in the project. She also recommended that the participants be transparent in their communication, work as a team, and promptly report their findings without bias.
Over the course of the two days, 12 representatives from 6 Lagos-based CSOs gathered to broaden their understanding of the National Social Investment Programme, the concept of third party monitoring and the roles of third party monitors, methods and tools for third party monitoring, conducting field monitoring, and data entry/reporting and feedback processes. Participants also had the chance to discuss some of the challenges they expected to face on the field and some strategies for dealing with these challenges.
The programme concluded with participants drawing up feasible implementation plans to be used for monitoring and proper implementation of the project at the local government area (LGA) level. The participants also received clarification in response to their questions and provided feedback on the monitoring tools.
Event Photos