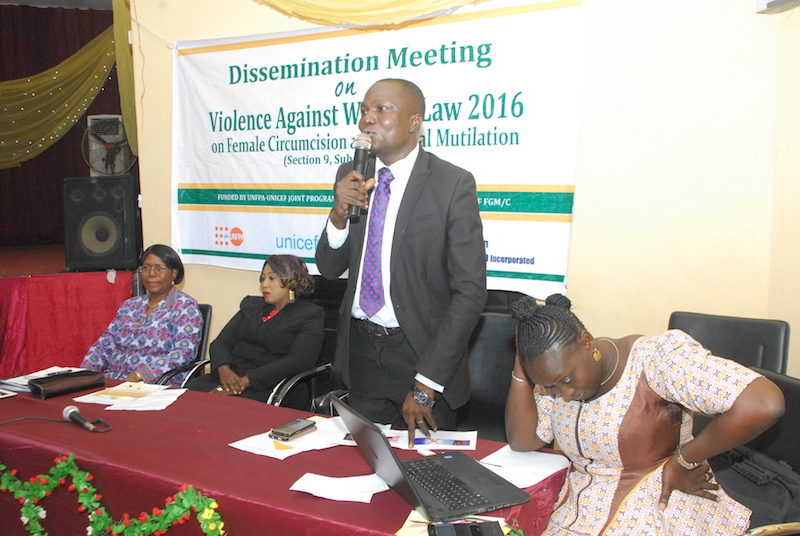 Action Health Incorporated (AHI) with support from the United Nations Population Funds (UNFPA) held a two day meeting for key stakeholders in Oyo state to disseminate the simplified version of the Oyo State Violence against Women bill that prohibit violence against women in public and private life, harmful traditional practice.
A UNFPA-UNICEF 2016 Survey revealed that FGM practice is highest in the South-West Nigeria in spite of the geopolitical zone's high literacy and awareness rate with Oyo state being the 3rd highest prevalent state at 67.9%. Furthermore, Kajola (98%), Oyo west (86.9%), Ibarapa (84.2%) and Ogbomoso South (75%) were identified as Local Governments with high prevalence rates in the state.
Thus, the event which had two hundred and ninety (290) stakeholders in attendance from Ministry of Justice, Health, Women Affairs & child development as well as key traditional Leaders from Oyo State was to advocate, sensitize, educate the public on the VAW Bill as well as strategize for the complete elimination of FGM/C in Oyo state.
Various stakeholders at the meeting applauded the efforts of the State government in protecting women and girls in the state and pledged their commitment to strengthen and enforce the law prohibiting violence against women as it relates to FGM/C at their various ministries. In addition, Traditional Leaders also pledged their support and commitment to raise further discourse in their respective communities towards putting an end to FGM practice. Speaking during the event, the Bagii of Saki; Alhaji Adegoke G. Abour –Rasheed, pledged his support to work with his people to abandon the practice in his community.
Event Photos