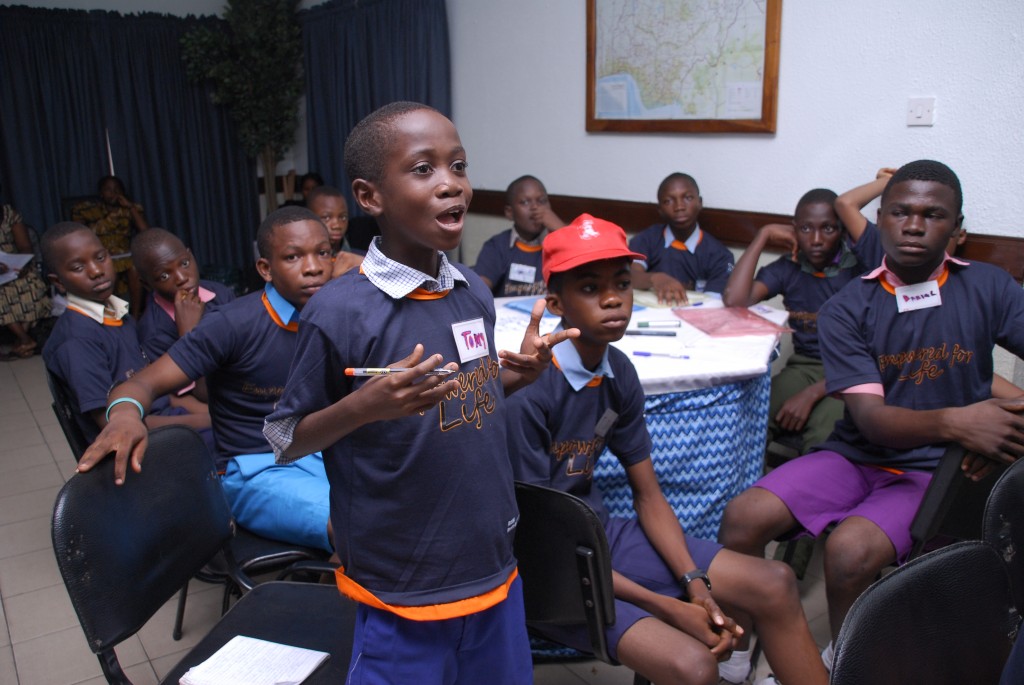 Young people are not future leaders; they are the leaders of today. The staggering rates of sexually transmitted infections and unwanted teenage pregnancies have alerted the need for comprehensive sexuality education for Nigeria's youth to equip them with the information and skills they need to live healthy and fulfilling lives.
To complement the implementation of the Family Life and HIV Education (FLHE) curriculum in Lagos State Public Junior Secondary Schools, Action Health Incorporated (AHI) with support from the United Nations Population Fund (UNFPA) organized a three-day Peer education training from Thursday, March 12 – Saturday, March 14, 2015 at the AHI office in Jibowu.
The training aimed to educate and build the capacity of 120 Junior Secondary Students (JSS) 1 & 2 students and 24 teachers in 12 selected schools from the six educational districts in Lagos state on adolescent sexual and reproductive health. The selected schools include: Iju Junior Grammar School, Iju, Ojota Junior Secondary School, Ojota, St. Lukes Junior Grammar School, Bariga, Eko Akete Junior Secondary School, Lagos Island, Epe Junior Grammar School, Epe, Aje Comprehensive Junior High School, Sabo, Wesley Girls Junior Secondary School, Yaba, Jibowu Junior High School, Jibowu, Lagos State Model Junior College, Ojo, Bolade Junior Grammar School, Oshodi, Army Cantonment Junior Secondary School, Ikeja, and Ransome Kuti Memorial Junior Grammar School, Mushin. The students were selected by their teachers and school administrators to represent their schools and the training was facilitated by a Lagos State Ministry of Education FLHE Master Trainer and AHI Staff.
The students and teachers were divided into three groups for the duration of the training: Sunshine class (JSS1), Achievers class (JSS1&2), and Awesome class (JSS2) and each class had 48 participants (40 students and 8 teachers). The training was highly participatory as it comprises of role plays, group exercises, brainstorming, demonstrations, and lecture presentations on focused issues like Adolescent Sexual and Reproductive Health, Puberty, Teenage Pregnancy, Risk Reduction Techniques, Sexually Transmitted Infections including HIV/AIDS, Care and Support for People Living with HIV/AIDS, Values, Values Clarification, Gender & Gender Roles, Sexual Violence, Communication, Assertiveness and Negotiation Skills, Friendship, and Peer Education- roles & challenges.
The newly trained peer educators were made to think critically about the issues facing their peers in schools and society at large and how to respond to the challenges associated with growing up. The excitement of the young people was hard to miss as they eagerly participated in group activities, asked pressing questions during the lectures, and volunteered for role plays.
At the conclusion of the 3-day training, the participants were asked to develop an action plan with detailed activities to be undertaken within two months. Furthermore, they are expected to reach all of their peers in their respective schools (approximately 10,000 students) with the information they received at the training.
In addition, the students also completed a training evaluation sheet and their responses indicated that they found all of the topics discussed useful and relevant would like for more students to have a similar training opportunity. Some of the students' responses include: "I think that this training was a very useful one and it is useful for the nation|, "If you can continue this in every [state] it could help Nigeria youth a lot because it educates about sexual activities", "This should be happening at least once a year to develop and teach other growing teenagers.", "The training was so educative and it was also fun being here."
Event Photos