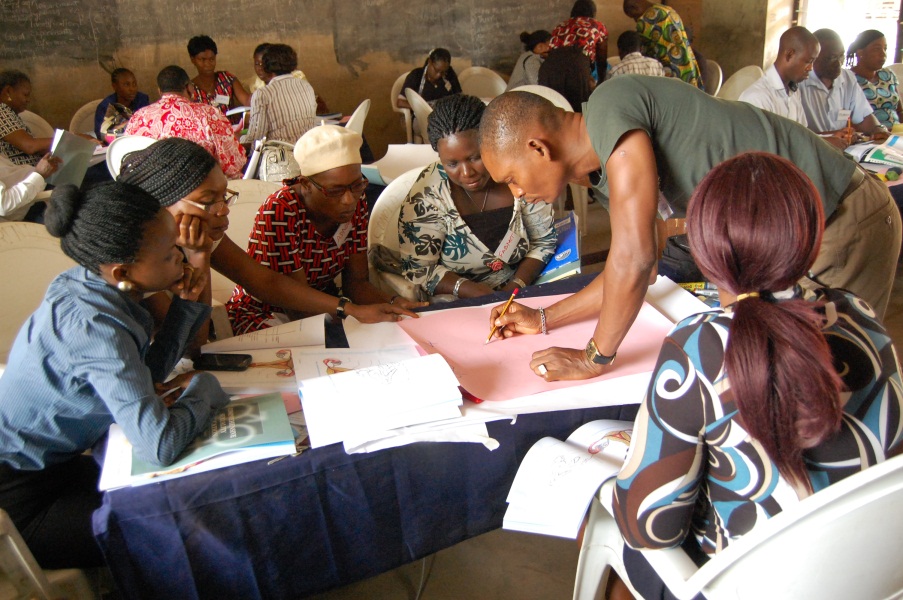 Action Health Incorporated (AHI) in collaboration with the Ogun State Ministry of Education, Science and Technology with support from the United Nations Population Fund (UNFPA) trained sixty (60) Family Life and HIV Education (FLHE) career teachers from seventeen (17) secondary schools in Ogun State on key concepts of FLHE and effective classroom methodology. The 8 days training ran from March 16 – 24, 2015 with the participants drawn from 4 Local Government Areas across the 3 senatorial districts in Ogun State.
The training which was designed to strengthen the implementation of Family Life and HIV Education in Ogun state was born after an assessment on the Status of FLHE implementation in 6 States (Lagos, Ogun, Cross River, Kaduna, FCT and Benue) and Ogun State had an overall percentage rating of 54.8 percent. The assessment also showed that in Ogun State, a major setback to the FLHE curriculum implementation is the frequent transfers of teachers leaving the schools with no FLHE trained teachers. Also, teachers and students do not have access to instructional materials and textbooks on FLHE.
During the training, highly participatory approaches such as; group exercises, plenary sessions, brainstorming, role plays, demonstration, songs, lecture, energizers, and practicum were employed in building the capacity of the teachers on FLHE key concepts. Their capacity was also built in the area of classroom delivery of the curriculum. Equally, the training covered topics such as; overview of the FLHE Curriculum, FLHE Key Concepts, Sexuality Across a life Span, Anatomy and Physiology of the Male and Female Reproductive Parts, HIV/AIDS, Care and Support for People Living with HIV, STIs amongst others.
Analysis of the pre and post-test questionnaires at the end of the training showed a 25% increase in knowledge of participants on FLHE key concepts. Participants also reported a change in their attitudes; beliefs as well as improved comfort level in discussing issues related to sexuality, especially how they pass information to their students.
Some of the participants also shared their thoughts on the training such as: "the training sessions have been quite educative and interactive. I have learnt how to facilitate Family Life and HIV Education among students. All along, I had been using more of lecture method to teach children, students and even parents about sexuality but now I have learnt various ways to teach various topics using role play, songs and storytelling.", "The training is intensive, interesting and highly educative; I am better equipped and well informed on how to handle adolescents and sexuality", "I really know what I had not known before, even as an elderly person that has spent twenty-eight years in marriage. I have learnt many things concerning child training, teaching method and sexual life. In this training, I have gained more friends".
At the end of the training, the teachers were presented with certificates during the closing ceremony, which had in attendance representatives of UNFPA Ogun State, Ministry of Education, Science and Technology and Ministry of Women Affairs. The new FLHE trained teachers will also form part of the Gender Based Violence Network to be set up in the State by the agency in collaboration with the Ministry of Women Affairs.
Event Photos