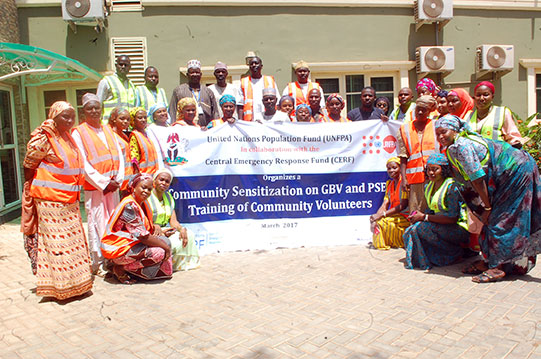 Action Health Incorporated (AHI) with support from United Nations Population Funds organized orientation training for 30 social workers in February 2017 on Gender Based Violence (GBV) and Prevention of Sexual Exploitation and Abuse (PSEA) in host communities and IDP Camps in Adamawa State.
Participants were trained on contemporary GBV related issues and prevention mechanisms for survivors, strategies on conducting community sensitization, referral pathways (access to medical service, justice, food aid etc.), and educating survivors on accessing referral pathways during their community sensitization activities.
Following the training, community sensitization outreaches were conducted across 8 communities in Adamawa State. Sensitization outreaches were held in Bachure, Jambutu (Yola North), Gwaida Malam (Numan LGA), Sangere and Modire Host Community   (Girei LGA), Demsa 1 & 2 (Demsa LGA), Malkohi Host Community and Yolde Pate (Yola South), and Daware (Fufore LGA) to reach people with context specific messages on GBV.
Over, 14,000 persons were reached with information and cases identified were referred to the General Hospital nearest to the communities.
Event Photos