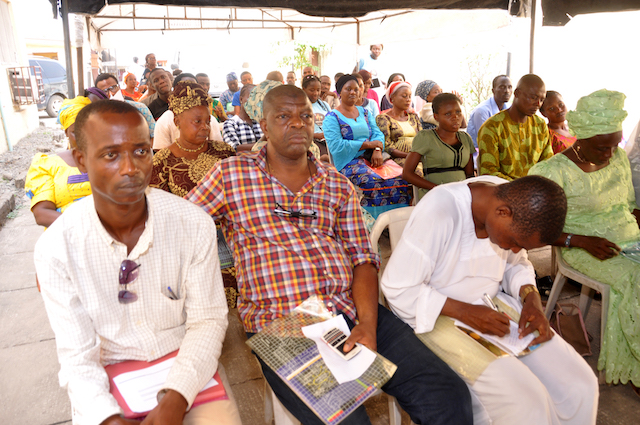 A cohort of 30 girls trained as Reproductive Maternal Newborn Adolescent and Child Health (RMNCAH) Champions by Action Health Incorporated carried out community dialogues to raise discourse on the sexual and reproductive health issues faced by young people especially girls in Iwaya Yaba and Ilaje .
Speaking at the community dialogue in Iwaya, Ms Ajijola Zainab said that the girls advocate went around the community and identified several RMNCAH challenges faced by young people which include; lack of access to SRH information and services, high rate of teenage pregnancy, sexual violence and early marriage.  Also, Miss Megbuwawon Matilda at the dialogue in Ilaje said that some young people do not come to the health facility because of the attitude of the healthcare providers which was identified as a barrier during their discussion with their peers in the community.
Thus, the community dialogue was to seek the support of stakeholders towards provision of Youth Friendly Healthcare Services so as to increase access of young people to SRH information and services. As part of the evidence gathering by the girl's advocates, they were able to mobilize 750 young persons to append their signatures on a call for the provision of Youth Friendly Health Service and Information at the Community PHC.
Present at these community dialogues were CDA's representatives, Officer In charge of Iwaya and Ashogbon PHC, Medical Officer of Health Yaba LCDA, DPO of Iwaya Police Post, Health Educators from Bariga and Yaba LCDA, traditional and religious leaders.
In furtherance of this, AHI with support of Champions of Change will be integrating Youth Friendly Health Services in Iwaya and Ashogbon PHCs.
Event Photos